Crystal Reports XI
Design and Manage Reports for Extreme Business Insight
Crystal Reports XI R2 (version 11.5 / 2006) is a previous version.
View your Crystal Reports in any web browser, with up-to-the minute data. Learn more.
Product Overview
The world standard for report creation, Crystal Reports XI offers a flexible report design environment for creating and maintaining highly formatted reports. Crystal Reports XI makes data access, report design, and report maintenance even easier!
Crystal Reports XI allows you to access, format, and deliver information to drive better decision-making. Crystal Reports XI has the flexibility and power to provide your internal and external users with the information they need, when they need it, while minimizing IT overhead.
Quickly transform almost any data into powerful, interactive content. Create compelling reports for viewing and interaction via portals, wireless devices and Microsoft Office documents. Crystal Reports delivers tools for tightly integrating dynamic content from virtually any data source into web and Windows applications.
Powerful Report Design
Report authors can use the visual report designer (with a complete set of layout and design controls), to design highly formatted, interactive, and professional looking reports. And they can design within the leading .NET and java development tools without having to step out of their chosen development environment.
Productivity Tools
Crystal Reports XI includes tools for faster report development. Key reporting objects can be stored in the Repository for sharing, reuse and single point updating across multiple projects. Redundant coding can be reduced through use of Custom Functions to extract business logic from formulas.
Designed for Enterprise Web and Desktop Applications
With flexible .NET, Java, and COM SDKs -- and full support for Visual Basic 6 (VB6) development -- Crystal Reports version XI enables tight report integration into enterprise desktop and web applications. Its zero-client viewer controls and rich object model enable developers to provide rich end user report interaction and modification at runtime. Separation of application development and report design tasks allow developers to focus on application development, while the report authors can focus on report design.
Flexible Design Technology
Crystal Reports' flexible design technology delivers complete control over data access and presentation. Connect natively to more than 35 data sources including XML, OLAP or relational sources or create your own custom JavaBeans or COM data providers. Use Crystal Reports' proven query generation capabilities or write your own SQL for unlimited control over data connectivity.
Benefits
Maximize IT efficiency by reusing report components including bitmaps, custom functions, and SQL commands across multiple reports.
Transform data from almost any data source-including XML, relational, ODBC and enterprise-into interactive, powerful content.
Let end users access and interact with reports via portals, wireless devices and Microsoft Office documents-without extra IT overhead.
Rapidly integrate rich, dynamic content into Windows and web applications.
Take advantage of a new, powerful multi-threaded Report Server.
Flexible SDKs for integration into Java, .NET or COM application, including full support for Visual Basic 6 ( VB6 ).
Deploy thick-client applications at no extra cost-free runtime (Developer Edition).
Control end user report interaction, creation, and modification at runtime.
Editions
Crystal Reports XI is available in editions to meet the different needs of business users, IT professionals and application developers.
Crystal Reports XI R2 System Requirements
[Windows 7, 8, 10 and Windows 2008 R2, 2012 Server not officially supported, but work properly in most cases.]
Windows Vista (All 32-bit and 64-bit Editions)
Windows XP Professional SP2 or later
Windows Server 2003 R2 Enterprise Edition
Windows Server 2003 SP1 Datacenter Edition
Windows Server 2003 SP1 Enterprise Edition
Windows Server 2003 SP1 Standard Edition
Windows Server 2003 SP1 Web Edition
Windows Server 2003 (x64 Edition) SP2 or later
Windows 2000 SP4 Professional or Server
700-MHz Pentium III-class processor
512 MB RAM
1.5 GB free disk space
(Purchase options for Crystal Reports XI have been updated above on this page.)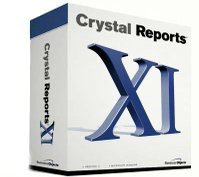 SAP Crystal Reports XI R2 (2006) Developer Edition Electronic Delivery - $595
Crystal Reports XI R2 (2006) Developer Edition Upgrade - $295
Discounted upgrades to Crystal Reports XI R2 are no longer available. Please purchase the full version.
Crystal Reports XI Professional Edition - $495
Crystal Reports XI Professional Edition has been replaced with the Developer Edition. The Developer Edition includes all features and capabilities of the Professional Edition.