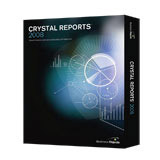 Crystal Reports 2008
Crystal Reports 2008 is a previous version of Crystal Reports.
Click here to compare prices of all available versions of Crystal Reports.
Need an inexpensive Crystal Reports reader to view your Crystal Reports and refresh their data?
SAP has ended its Crystal Reports reseller program.
We hope to offer Crystal Reports licenses again in the future.
Product Overview
Crystal Reports software enables you to easily design interactive reports and connect them to virtually any data source. Your users can benefit from on-report sorting and filtering — giving them the power to execute decisions instantly.
And with Crystal Reports Visual Advantage, you can gain even more functionality for compelling reports. This bundled product includes Crystal Reports and Xcelsius Engage, giving you the power to create highly formatted reports with what-if scenario models, interactive charts — and deliver them via the Web, e-mail, Microsoft Office, Adobe PDF, or embedded in enterprise applications. As a result, you can leverage your reports to make better operational and strategic decisions.
With Crystal Reports, you can:
Leverage professional reporting - priced for everyone.
Empower end users to explore reports with on-report sorting and parameters.
Minimize IT and developer effort with interactive reports.
Develop powerful data mashups.
Save valuable report design time.
Embed professional-looking reports in Java and .NET applications.
Tailor your solution by adding report management and viewing tools.
SAP Crystal Reports 2008 Full Product - $495
SAP Crystal Reports 2008 Version Upgrade - $295
Reduced cost upgrades to Crystal Reports 2008 are no longer available. Please purchase the full version