Find it EZ Code Search Professional
Scanner and Analyzer for Crystal Reports, databases, programming languages, and more.
Quickly search Crystal Reports, application source code, and/or databases.
Document everywhere text, code, or database elements are used.

Determine the scope and impact of planned changes.
Easily estimate the time required to complete a change.
Find it EZ works with Crystal Reports, Visual Studio, SQL Server, Oracle, Java, .NET, C, Python and much more!
Overview
Find it EZ searches all of your reports, source code, documentation, databases, and data at once to create a checklist of everywhere the search target is used.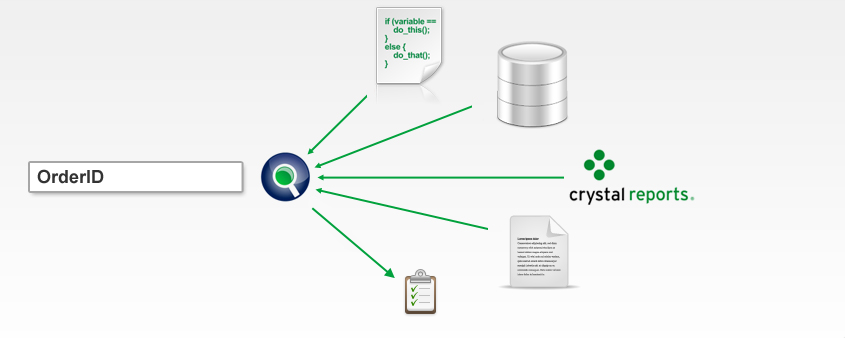 Quickly and easily see everywhere an item is used in your reports, code and/or database.
Assess the scope and impact of planned changes to your database.
The power of Find it EZ lies in its incredible time-saving ability to search all components of any application:
Programming language source code. If Find it EZ doesn't support the language you are using, we can add support within 2 business days, guaranteed!
Relational Databases, including schema definitions and SQL code such as stored procedures and triggers, and table data.
Reports, including binary Crystal Reports, Active Reports, SQL Server Reports Services (SSRS)
Documentation, including verbose application logs and configuration files
Find it EZ is the first and only complete source code scanner to search it all at once in a single, integrated package.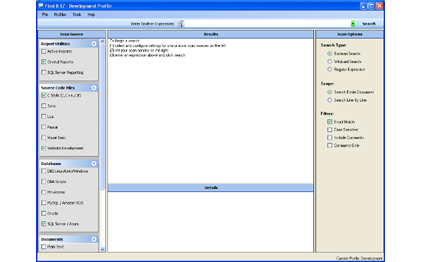 Key Benefits

Live Database Scans
Connect directly to and search relational database SQL code, data or schema, even in the cloud -
SQL Server, Oracle, DB2, MySQL, Access and more.


Save Time & Money
All-inclusive impact analysis, troubleshooting and code reviews. Save hundreds of man-hours annually.


Make Your System Updates and Software Changes Trouble-free
Never miss another required change and always select the best change design option.


Search It All
Search program code, application logs, and configuration files. Scan databases and binary files including Crystal Reports .rpt files.

Find it EZ Code Search Professional - $369
— Includes support and upgrades for one year.
Find it EZ Code Search Professional Maintenance Renewal for One Year - $99