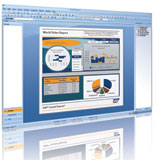 Crystal Reports 2016
The latest release of Crystal Reports has been re-branded as "SAP Crystal Reports 2016", but don't worry — it is still the de-facto standard, general purpose reporting tool that works with practically any database or data source. SAP Crystal Reports 2016 will open and work with .rpt files from previous Crystal Reports versions.
Product Overview
SAP Crystal Reports 2016 (Crystal Reports) is designed to work with your database to help you analyze and interpret important information. Crystal Reports makes it easy to create simple reports, and, it also has the comprehensive tools you need to produce complex or specialized reports.
Create any report you can imagine
Crystal Reports is designed to produce the report you want from virtually any data source. Built-in report experts guide you step by step through building reports and completing common reporting tasks. Formulas, cross-tabs, subreports, and conditional formatting help make sense of data and uncover important relationships that might otherwise be hidden. Geographic maps and graphs communicate information visually when words and numbers are simply not enough.
Extend reporting to the web
The flexibility of Crystal Reports doesn't end with creating reports — your reports can be published in a variety of formats including Microsoft Word and Excel, E-mail and even over the Web. Advanced Web reporting lets other members of your workgroup view and update shared reports inside their web browser.
See ReCrystallize Pro for distributing reports on the web.
Incorporate reports into applications
Application and web developers can save time and meet their users needs by integrating the report processing power of Crystal Reports into their database applications. Support for most popular development languages makes it easy to add reporting to any application.
Whether it's the web master in IT, the promotion manager in marketing, the database administrator in finance or the CEO, Crystal Reports is a powerful tool designed to help everyone analyze and interpret the information that's important to them.
Features
Enable Informed Decision Making – Design and Deliver Powerful, Flexible Reports
With SAP Crystal Reports 2016, you can create powerful, richly formatted, dynamic reports from virtually any data source, delivered in dozens of formats, in up to 24 languages. A robust production reporting tool, SAP Crystal Reports turns almost any data source into interactive, actionable information that can be accessed offline or online, from applications, portals and mobile devices.
Flexible, customizable report design – Create highly formatted, pixel-perfect reports quickly with SAP Crystal Reports' intuitive design interface and efficient workflows.
Dashboards and visualizations – Generate interactive dashboards and report visualizations without the need for any coding.
Broad data connectivity – Connect to information sources spread across the organization directly. Data sources include: Native, ODBC, OLE DB, and JDBC connectivity to relational, OLAP, web services, XML, enterprise data sources, and salesforce.com.
Powerful report delivery options – Deliver personalized reports to your business users' preferred destination in their preferred language and format.
Expanded support for Excel – XLSX export takes full advantage of the new Excel file format by allowing more data to be exported to a single worksheet, without spanning multiple worksheets.
Read-only report viewing – The new RPTR format provides a read-only RPT export option, giving you the confidence that users won't be able to modify reports.
SAP Crystal Dashboard Design software, Adobe Flex, Adobe Flash, and HTML 5 integration – Enable SAP Crystal Reports developers to produce powerful "mash-ups" pulling data from various sources.
What's New
Conditional formatting of boxes and lines, including the ability to conditionally suppress.
Vertical text alignment at Top, Middle, or Bottom.
Show parameter value descriptions in your report layout with the new GetValueDescriptions function.
Direct data access for SAP Hana, SAP IQ (formerly Sybase IQ), Oracle 12c, and SQL Server 2014.
System Requirements
Processor: AMD or Intel based processors, Dual Core CPU
Memory: 2 GB RAM

Disk space: 2 GB for default installation with English language, 4 GB for default installation with all languages installed.
Operating Systems: Windows 10, Windows 8 RTM, Windows 7 SP1, 8; Windows Server versions 2008 SP2, 2008 R2 SP1, 2012 RTM
SAP Crystal Reports 2016 Full Product - $495
SAP Crystal Server 2016 Named User License - $959
Provides access to Crystal Server for one individual user.
Includes SAP Crystal Reports 2016 Single User License for report design.
Includes SAP Crystal Dashboard Design 2016 for dashboards.
Self-service report access for end users.
Secure access with LDAP and SSO integration.
Mobile access with free Apple and Android apps.
Schedule reports to run automatically and distribute to end users.
Includes one year of Enterprise Support.
SAP Crystal Server 2016 Five Concurrent Access Licenses - $9,653
Provides access to Crystal Server for any 5 users at a time.
Requires at least one Named User License.
Provides automatic publishing of reports for unique recipients.
Includes one year of Enterprise Support.